Our Services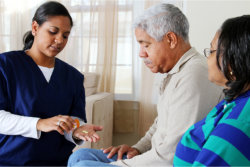 Here in Castle Group Home Care, we dedicate our lives and our services to make the lives and living of senior patients more enjoyable and highly comfortable. The services that we cater to them are born out of our desire to give them the care solutions that they and their families need in the years when they need support and assistance the most.
We believe in needs-centered servicing, thus we make sure that the clients we cater to have undergone our in-home assessment so they are provided with the best-suited care solution that they require. Basically, our care programs provide for the following services:
Companionship Care. Provided for patients who need daily assistance and support in accomplishing daily tasks and in maintaining good emotional and mental health. Help in pursuing hobbies and passions, and someone to simply talk and with or to listen.
Mobility Assistance, Ambulation, Transfers, and Transport. Gives patients and their families the needed convenience in moving around the house, going to check-ups, appointments and attending rehab sessions.
Homemaking. Supports patients in keeping a clean and orderly household that is safe and well-maintained for them to live in.
Memory Care for Alzheimer's and Dementia Patients. Provides the needed support in accomplishing personal tasks and monitoring symptoms and case progression.
Nutrition Management. Includes buying of groceries, planning, and preparation of nutritious meals.
Prescription Adherence. Encourages adherence through reminders and support in administration.
Doing Other Errands. Provides all other support needed in accomplishing personal or household tasks.
Hospital Sitting, Post Op Care, Respite Care.
Consult And Visit Facilities. We can accompany you or recomend facilities for Independent Living or Assisted Living .
Whatever your situation may be, you can be sure that Castle Group Home Care has the perfect care solution for you. You can trust in our team to provide you beyond the basic services to satisfy your needs in terms of personalized care services.
Kindly schedule an assessment with us today to discover the best plan. We can help you look for funds for your care needs through the assistance of our certified coordinators.